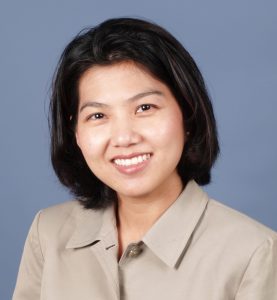 Hanh Nguyen, M.D. completed medical school at the University of Texas Medical School at Houston in the Texas Medical Center and Residency in Pediatrics at Scott & White Children's Hospital. She is board-certified in Pediatric Medicine and has been practicing pediatrics for over 10 years.
While in private practice in the Dallas area, Dr. Nguyen was nominated by her patients and voted one of North Dallas' top pediatricians. She is a former Assistant Professor of Pediatrics at the University of Missouri at Kansas City Medical School and served on faculty at Children's Mercy Hospital in Kansas City. She has enjoyed teaching medical students and residents.
Dr. Nguyen's research on urinary tract infections in teenagers won best presentation by a resident at the annual resident research conference held in Central Texas. Her research has been published in the Southern Medical Journal. She is a member of the American Academy of Pediatrics, the American Medical Association, the Texas Medical Association, and the Harris County Medical Society.
Dr. Nguyen stays active by chasing her three sons around, jogging, and competing in the Brazosport Relay Triathlon every year. She enjoys spending time with family, scrapbooking, and painting/artwork.
A native of Vietnam, Dr. Nguyen became a refugee during the "Fall of Saigon" in the early 1970s. Her family has been in the Houston area for over 33 years. Dr. Nguyen is fluent in English and Vietnamese. She is also partly fluent in Spanish.
After completing residency and being in private and academic practice outside of the Houston area, Dr. Nguyen returns to the Sugar Land area to be closer to family. As the name of her practice implies, she devotes 100% of her medical practice to those from birth to the teenage years.
"CARING" is our philosophy:
Commitment. At Tykes to Teens Pediatrics, we are committed to taking the very best care of children. Whether it's caring for newborns or sick children in the hospital or clinic, Dr. Nguyen will be there for her patients from birth through the teenage years.
Amiable. Our belief is to treat patient families like our friends. We know that smiling is contagious. That is why you will always find friendly smiles from our staff at each visit.
Receptive. Every family is unique and therefore may have specific concerns. At Tykes to Teens Pediatrics, we take the time to listen to our parents and patients, staying opened-minded to our families' needs. We believe that good care starts with good listening first.
Innovative. Our staff and physician keep up to date with the latest information in pediatric medicine. Living in a modern society, we understand that keeping up with the latest technology and diagnostic equipment is important to staying current. One example of this is our use of an electronic medical record (EMR) system. So access to charts is as simple as a click of a button.
Never-Ending Fun. A physician's office is not always equated with "fun". But at Tykes to Teens Pediatrics, we feel that having fun is the best way to help sick patients heal and stay healthy. It's easy for us to have fun because we love what we do.
Guidance. As our name implies, we enjoy seeing children from newborns to teenagers. All children develop in their own unique way. At Tykes to Teens Pediatrics, we provide guidance and advice to help parents nurture their little ones into young adulthood.
Choosing a good physician for your child can be one of the most important decisions one makes as a parent. That is why we invite prospective patient families to visit our office, sit down with Dr. Nguyen, and meet the staff.